I was impressed about Benedyka's concept of memory: the impossibility of identically replicating two photos, after all, what forces us to do, if not starting with a redefinition of the perceived, revising the signifier associated with a memory, to a single fragment to the extent that the deceptive and misleading memory arbitrarily returns us in relation to what we have seen?
In the painting "Knife on the Table" (Oil on Wood, 2016), reinforcing the concept of contact emphasized by the icastic encounter of surfaces, the dimensional connections are grasped, just like the knife that cuts the eye in the short film "Un chien Andalou" (Luis Bunuel 1929), the surrealistic translation of a visual expression that becomes reality capable of projecting us to a higher level of perception. Similarly, bringing out the boundary between conscious and unconscious, the artist gives shape to a dividing line to stare the memory as an absolute sign.
Text: Ivan Bissoli
Do You Remember When (Conversation I)
Why The World Looks They Way It Does (Conversation II)

Before The Mirror
Woman In White

Table With Cheese
︎
Roof
︎
Industrial Landscape

Triptych (Apron, Camera Boxes, Garden)︎

Knife On The Table

︎
Still Life
2021-2022

In Memory Of My Feelings

Archaeoacoustics or examining sound in the past
Castello di Squillace
SOLO SHOW - i.e. Art Projects
OPEN STUDIO - In Ruins Art Residency



First part of a sound/art project realized during my art residency in an ancient Italian town, in the region of Calabria.
In my works (sound-drawing-photography), I investigate themes like the translation of archeology and subjective experiences into general history.
I examine how the idea of archaeoacoustics is understood and narrated.
Drawings and photographs in response to:
a piece created by blending my vocals (12 voices) in the interpretation of a fragment of a medieval piece by Hildegard von Bingen "O virga ac diadema" (Praise for the Mother)
as well as

the soundscapes
fragments of information
archaeology of sounds
the ruins
visible and clandestine
feelings and emotions
natural phenomena
my stories.




Image: Martyna Benedyka, 2021, Fragment 1, Fragment 2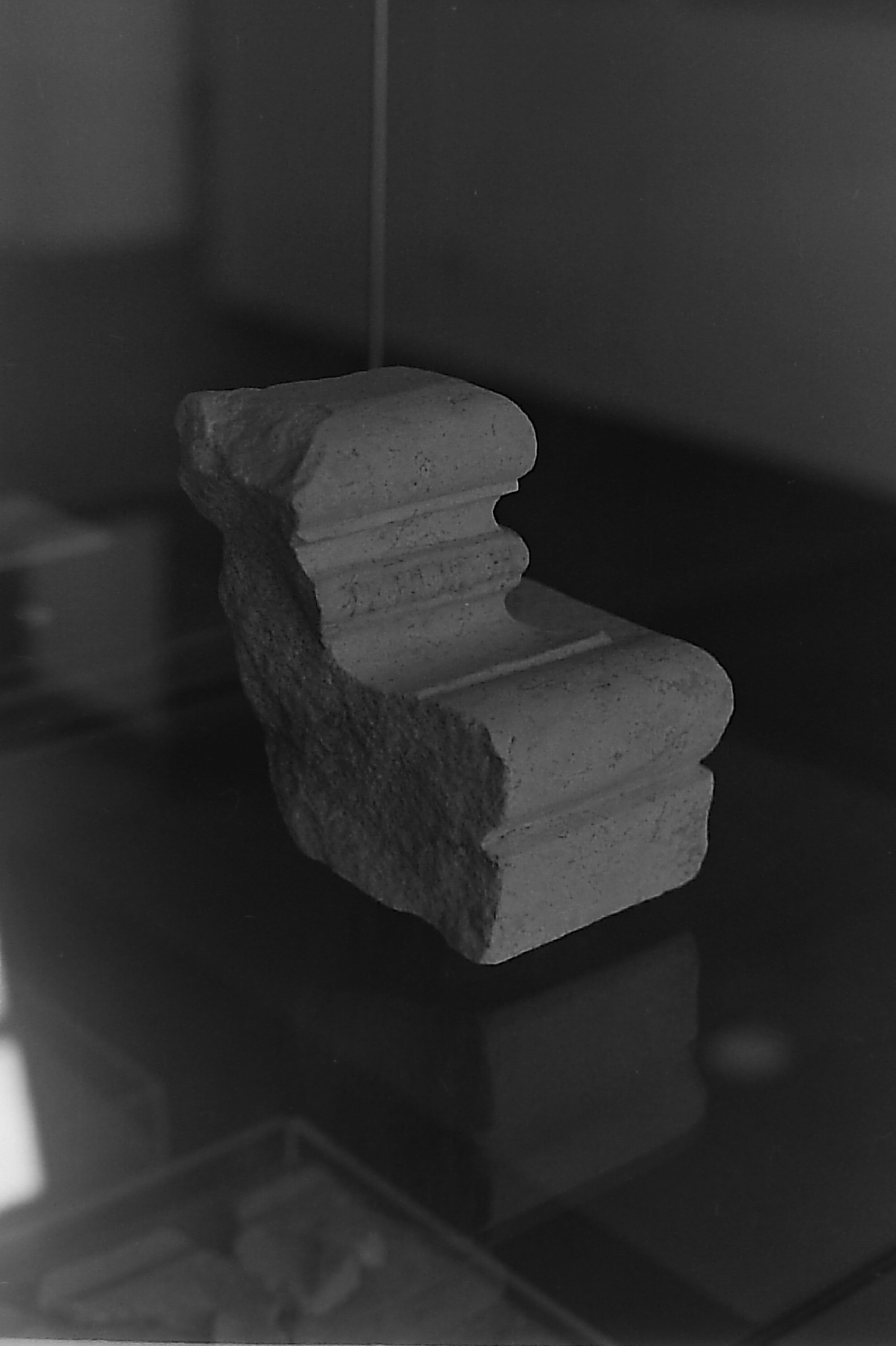 Image: Martyna Benedyka, 2021, Fragment 3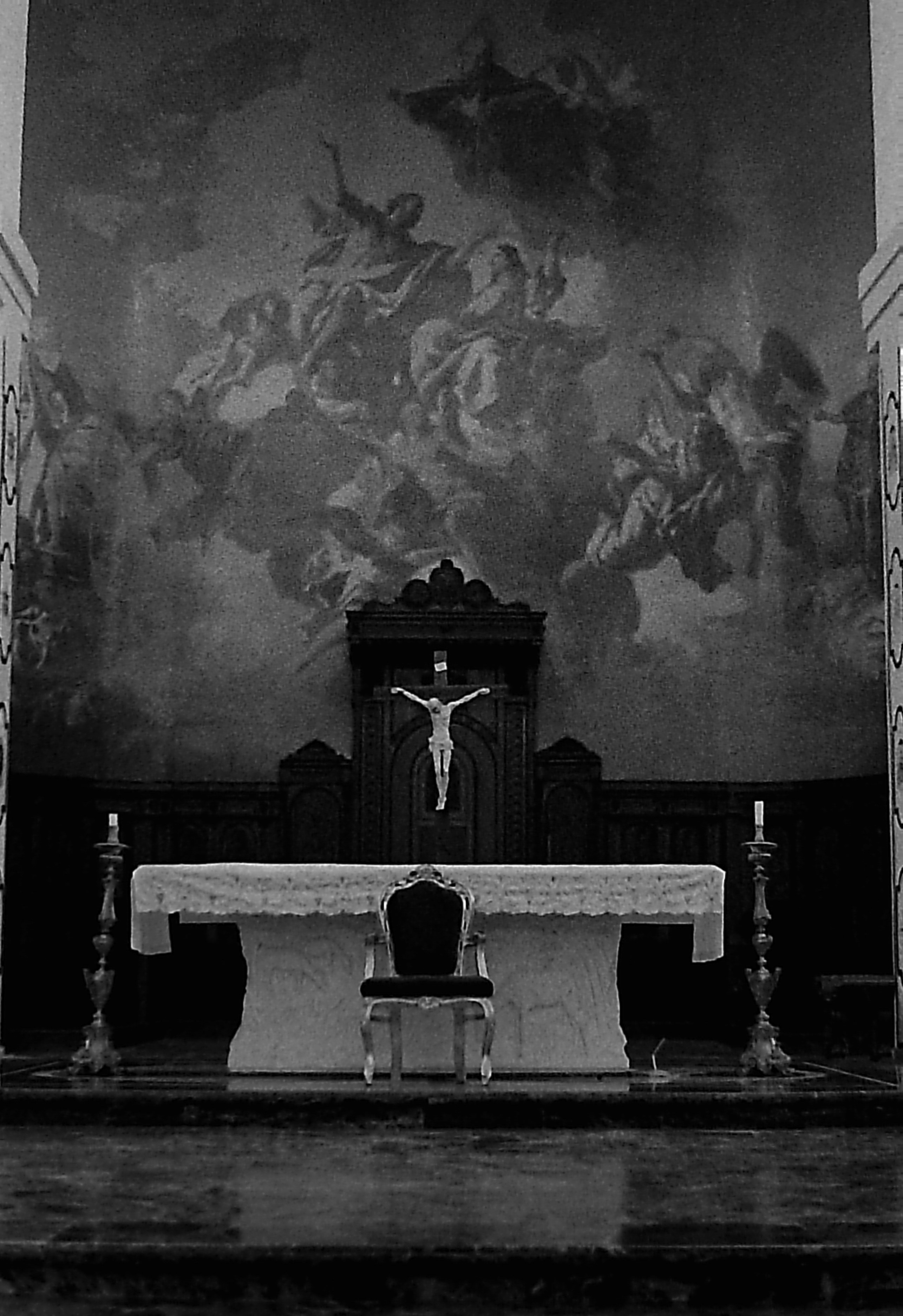 Image: Martyna Benedyka, 2021, Fragment 4
Image: Martyna Benedyka, 2021, Fragment 5

Image: Martyna Benedyka, 2021, Fragment 6, Fragment 7








"Composed by Hildegard von Bingen, a saint, mystic and medieval composer, the song is an ode to an olive branch which, free from original sin, becomes a source of life and a symbol of the mother's womb. Martyna's voice provides a vivid image when it is grafted into the context of centuries-old olive groves such as those that cover the surroundings of Squillace, restoring the sense of that god inherent in nature so dear to Bingen and that only art can embody in the human body. Archaeoacoustics, an interdisciplinary methodology used by the artist, includes archeology, ethnomusicology, acoustics and digital modelling, allowing for a concrete consonance between sounds of the past and those of the present."

In-Ruins Art Residency
Image: Martyna Benedyka, 2021, Fragment 8
Image: Martyna Benedyka, 2021, Fragment 9, Fragment 10
Image: Martyna Benedyka, Room 1, Installation View, Castello di Squillace, 2021
Installation Views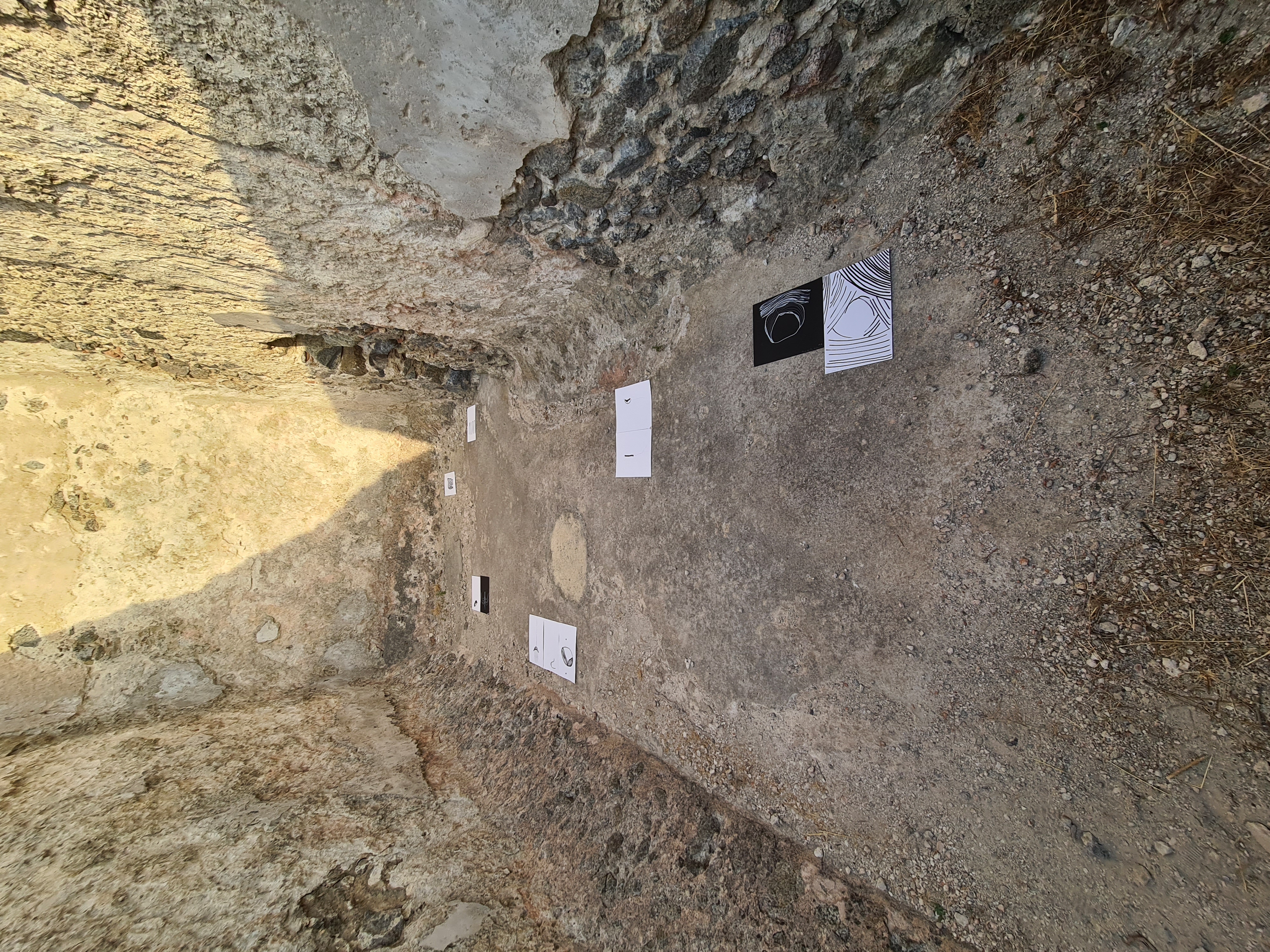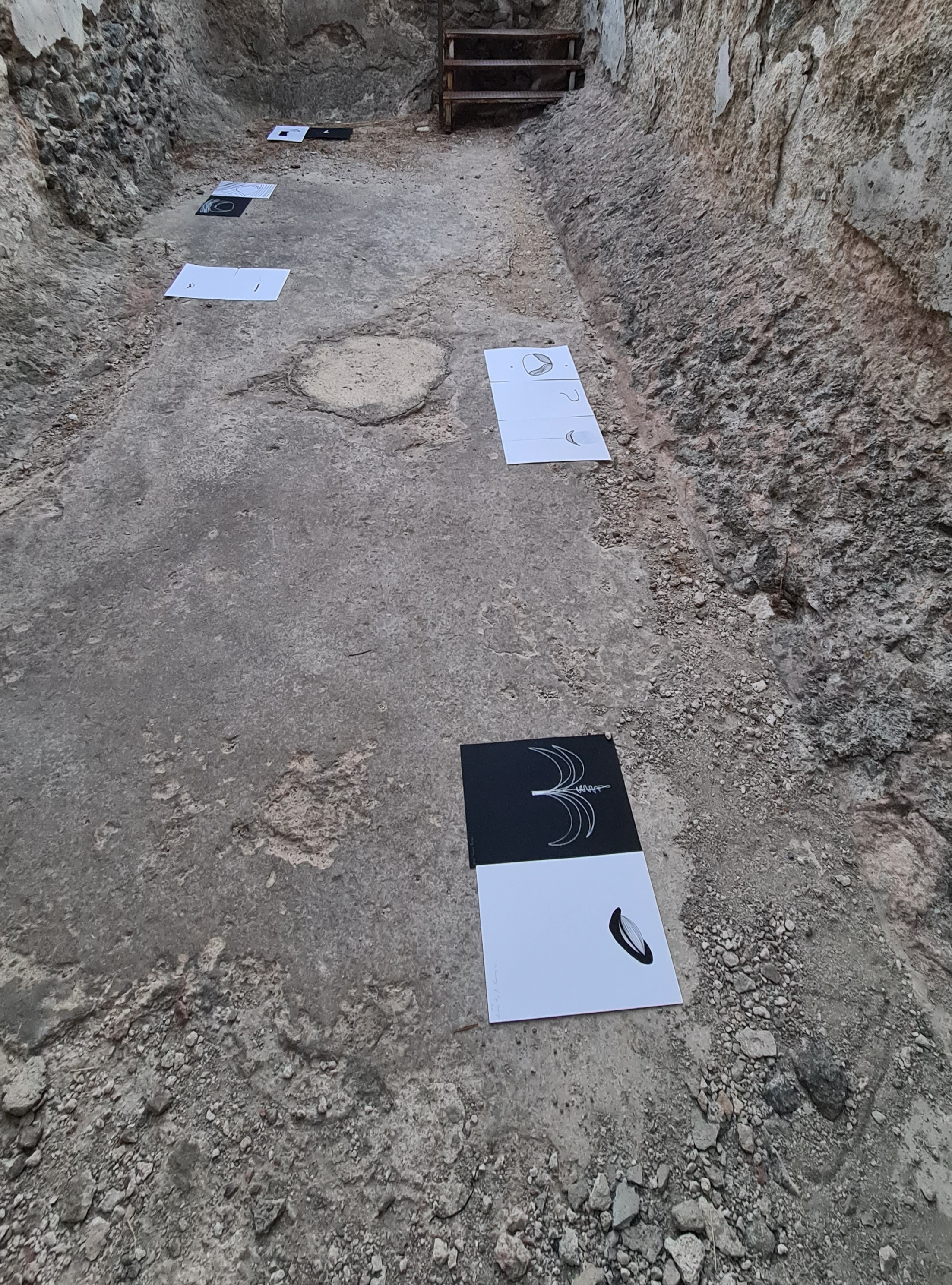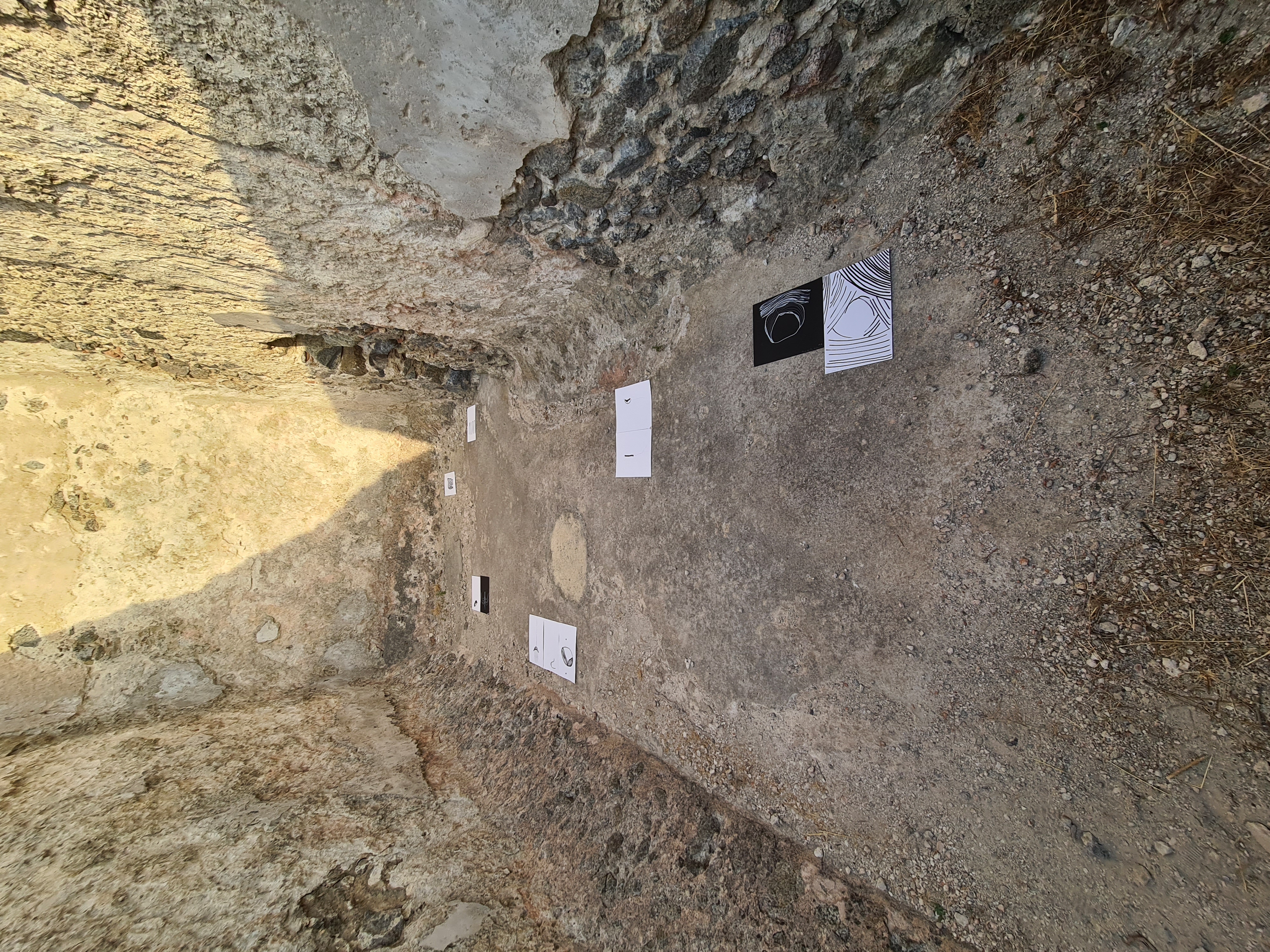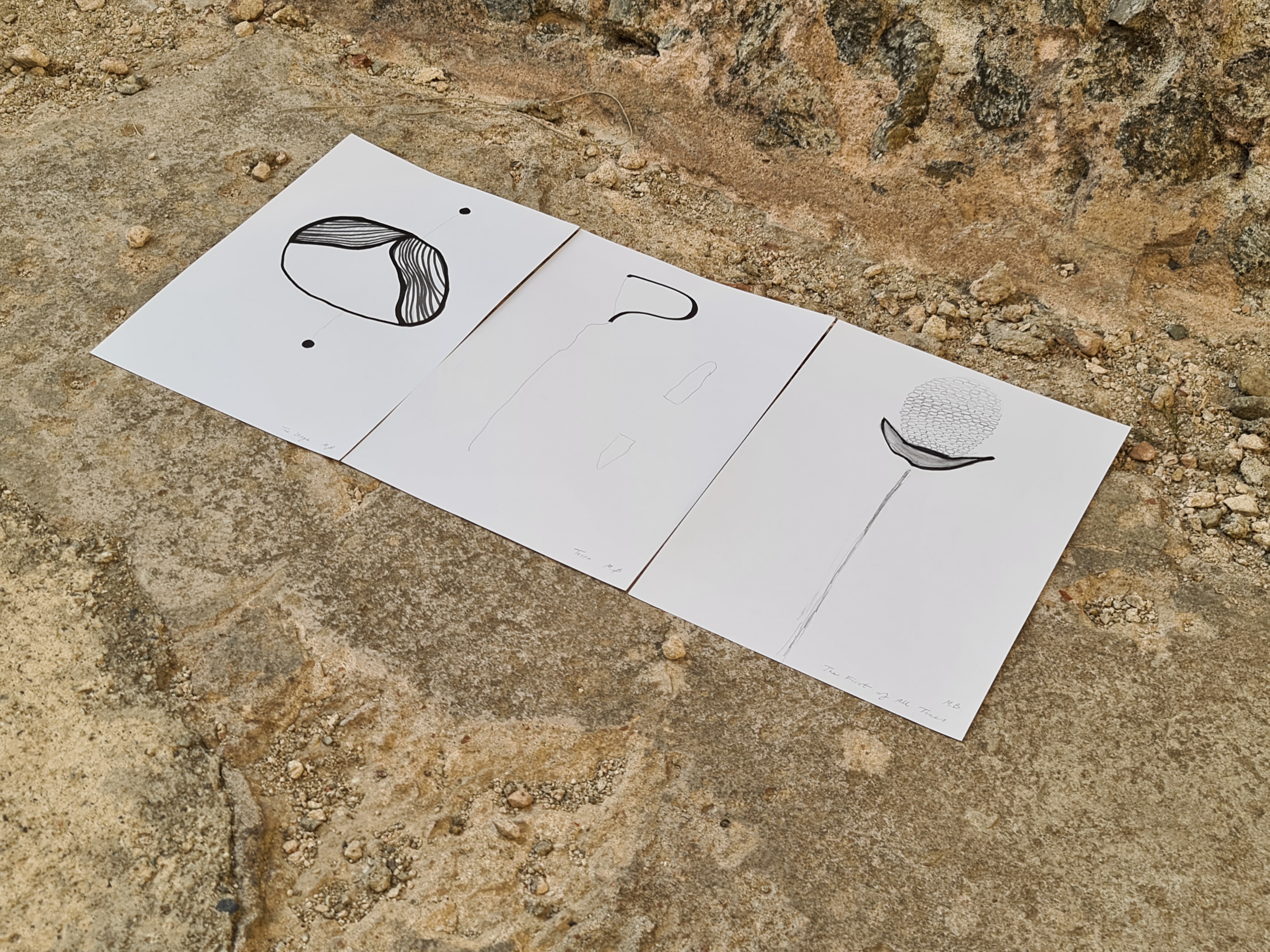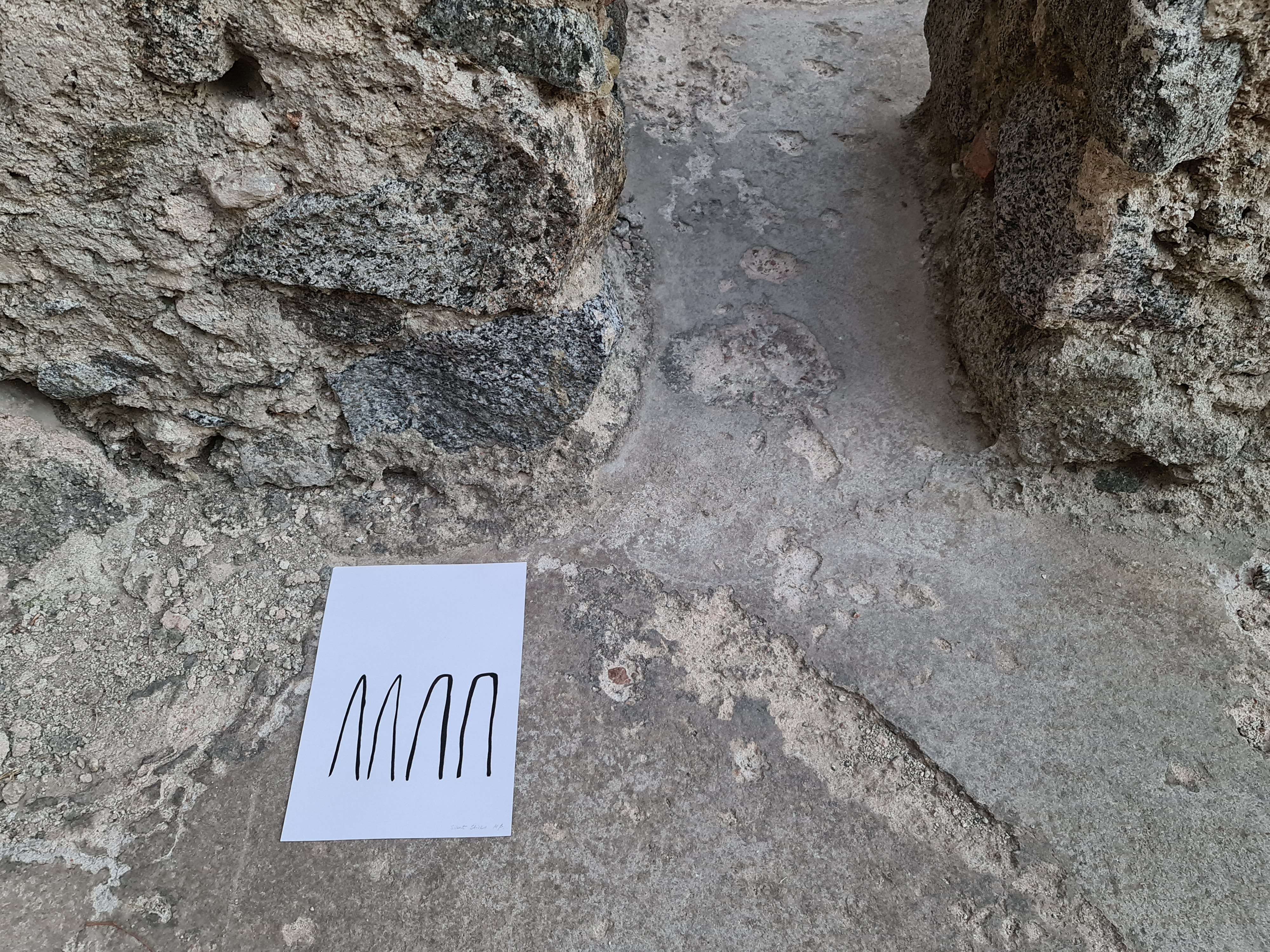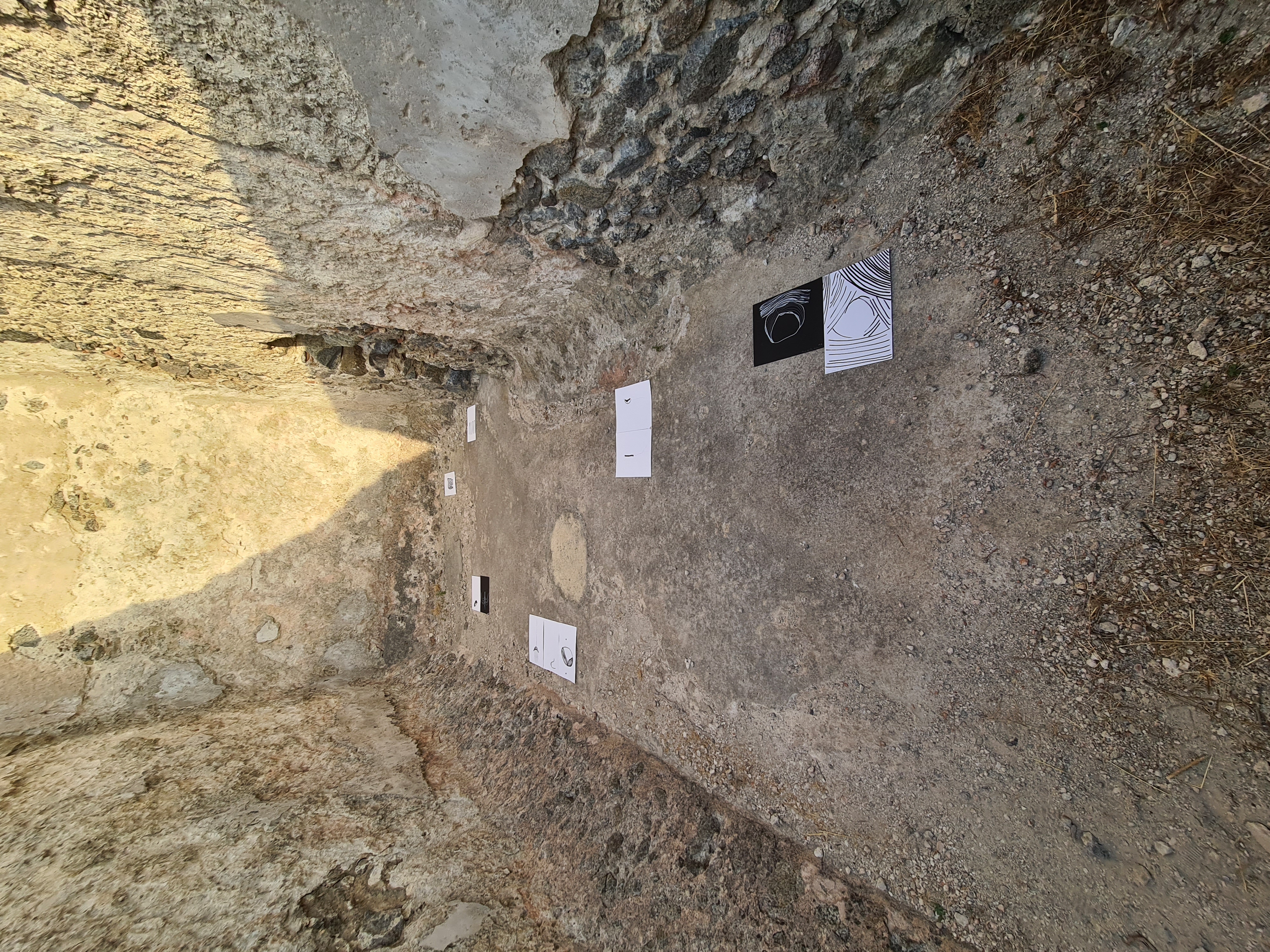 Fragile Vessel
Silent Sticks

Italy 1044
In Memory Of My Feelings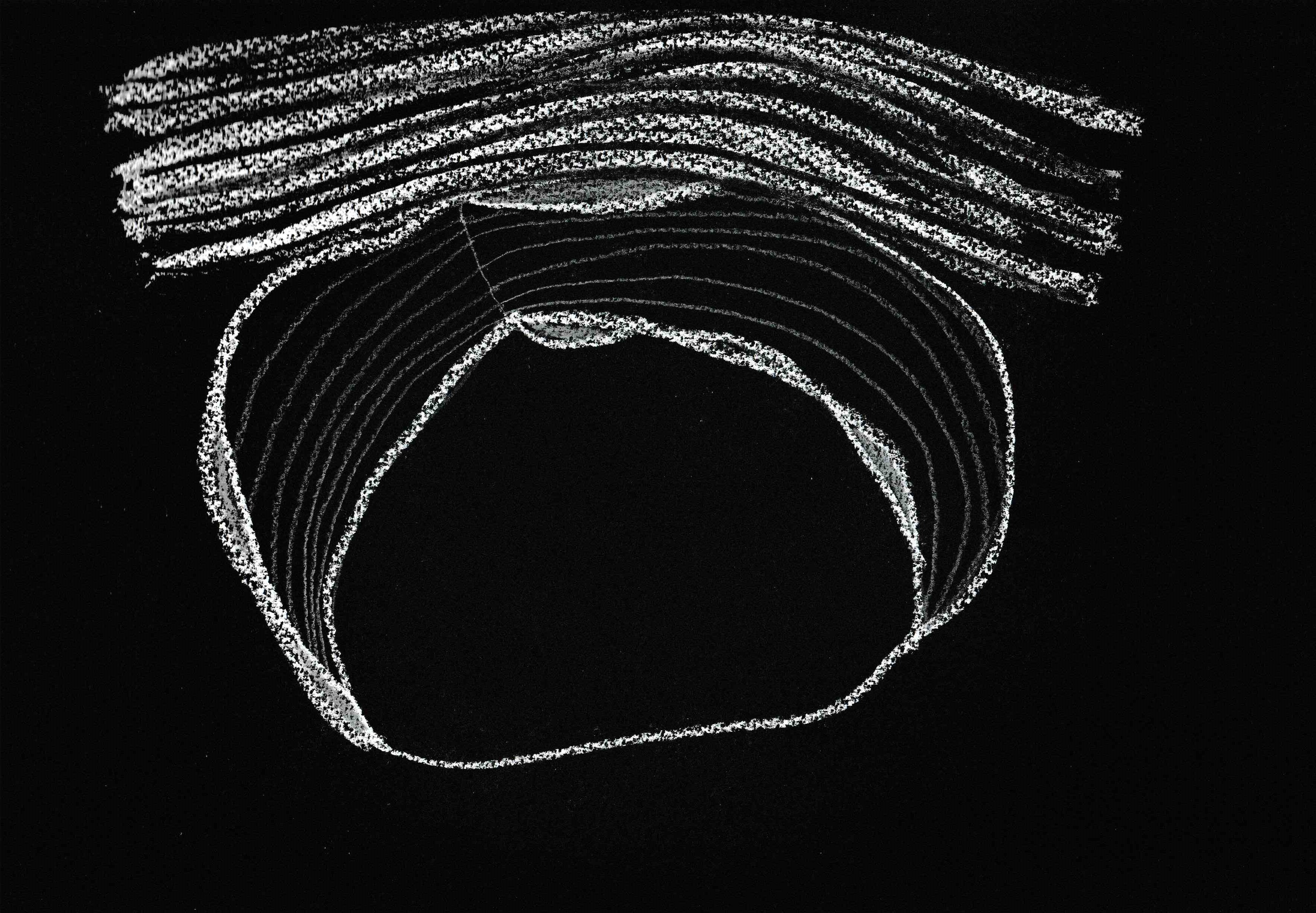 Missing Corners
Praise For The Mother



Re-sounding
Sprig





In Blossom
Untitled




The Stage
Terra



The First Of All Trees




In-ruins Art Residency, Squillace, Calabria, Italy
OPEN STUDIO, Castello di Squillace
Listen now on
sound installation
drawing and analogue photography
2021
Kintsugi






Kintsugi is the Japanese art of repairing broken pottery by mending the areas of breakage.

After my recent surgeries, I thought of the concept of kintsugi as a perfect technique to mend my body and soul and overcome the feeling of loss. This work allowed me to accept my precious scars which I was left with and treat each of them as a unique break that soon would be filled.

The images correspond with each other in a similar way to our body and being. It is a never-ending conversation: light – dark, day – night, shapes, lines, dots and spots, deep breaths, in and out, like the curtain and the wind.

Revolving around the topic of human body and skin, Kintsugi is a black and white photography journey through the process of healing and searching for the essence of resilience.

Text: Martyna Benedyka




Between Walls


the back wings

of the



hospital where

nothing



will grow lie

cinders



in which shine

the broken



pieces of a green

bottle

William Carlos Williams



Three Graces (Youth, Mirth, Elegance)

Eine ganz andere Bedeutung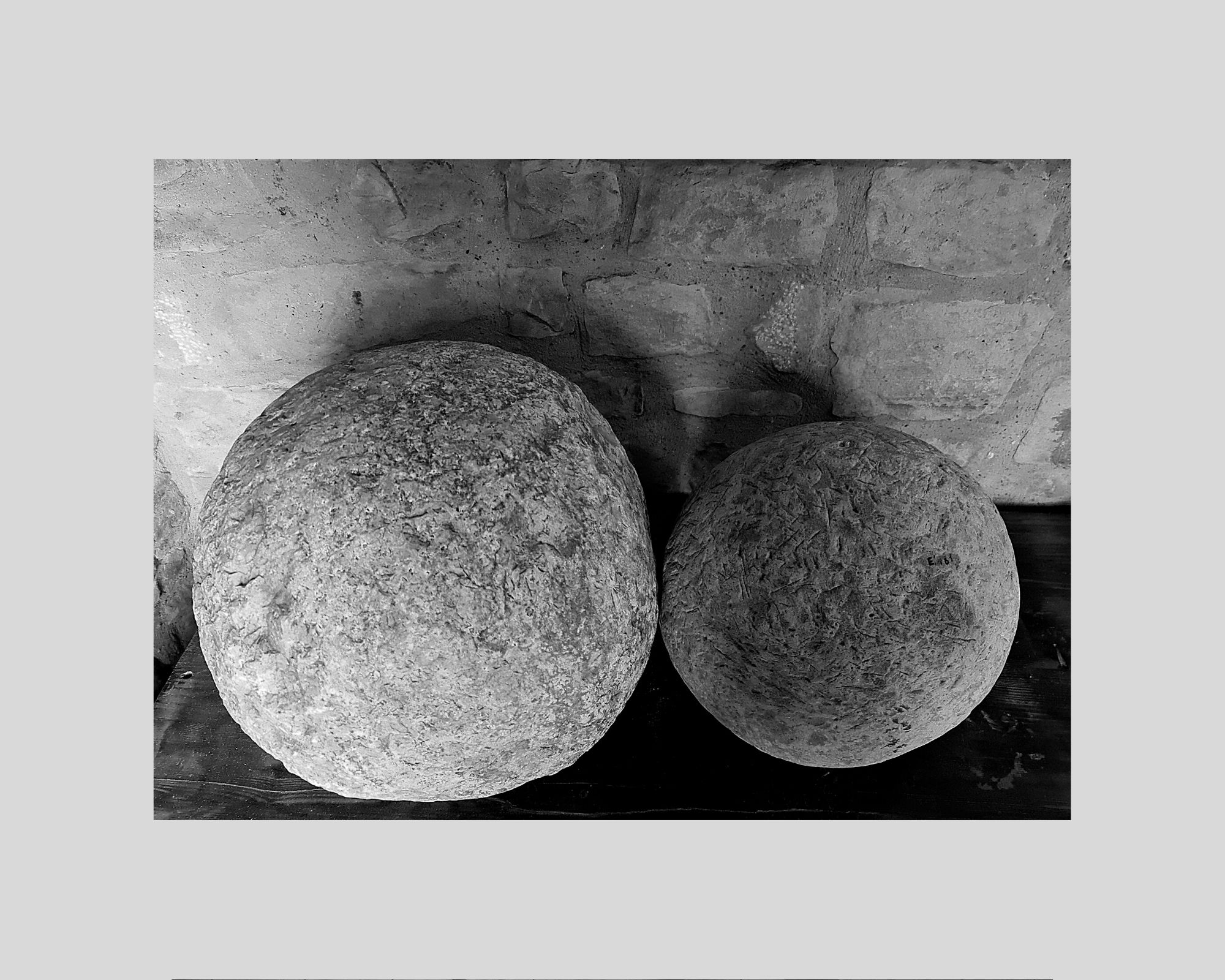 Gravitation
Cooperation
Skin
Nike of Samothrace

Atem
Composition I

Hiatus
Desert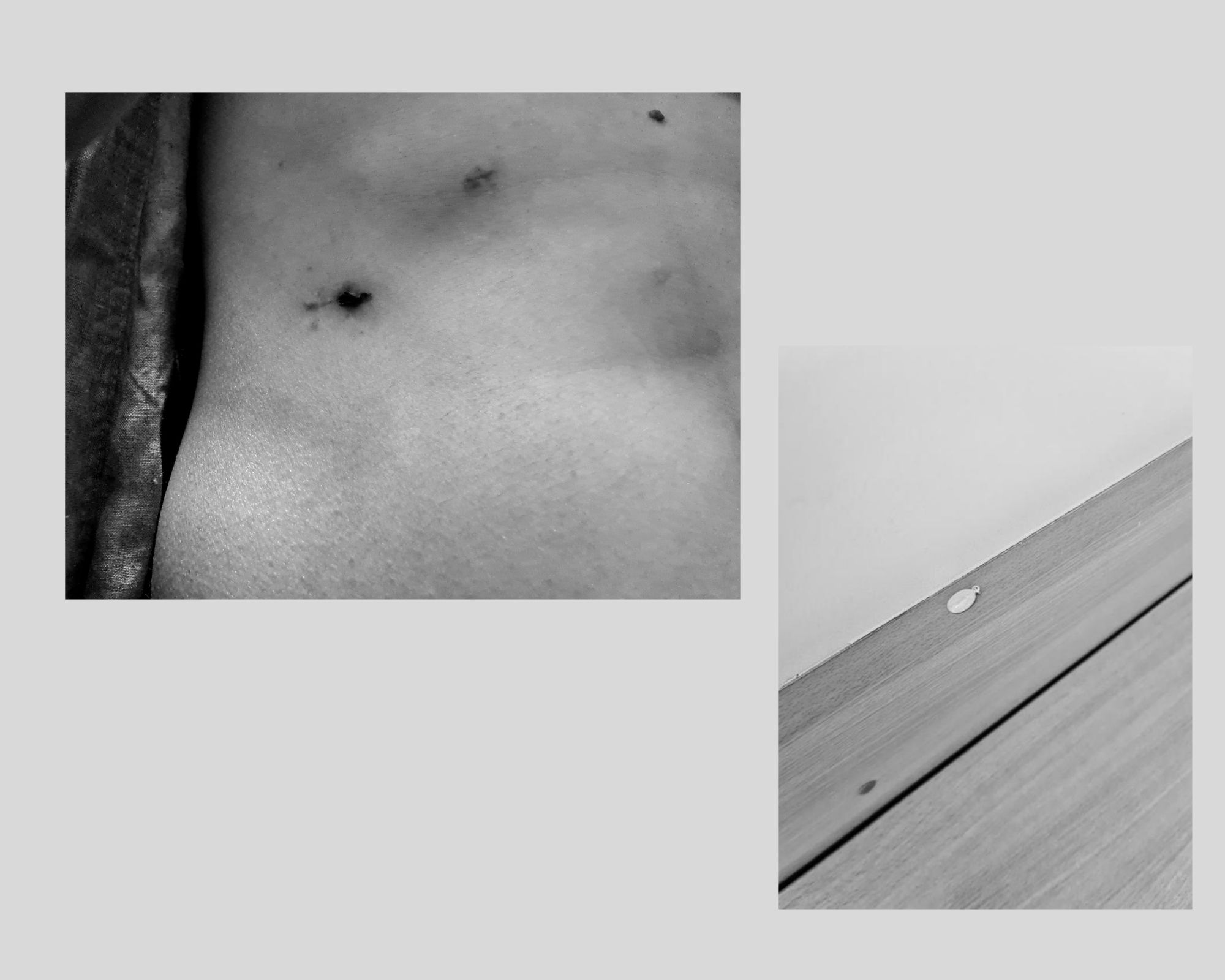 Kintsugi
Echo Cave
Verbindung
Der älteste Planet
The Burghers of Calais
Window View (Palm)
The North Sea 20 000 years ago.

Seascapes 21,22,23,24
︎︎︎
Fragments, Light
and Sound
I often painted fragments of things because it seemed to make my statement as well as or better than the whole could.
G . O ' K e e f f e
Photo: In-ruins
ARTIST STATEMENT
To me, the fact that no two photographic prints are ever exactly the same is a perfect analogy of how I view painting. Photography has taught me that memory is fragile and uncertain and through my painted surfaces memories are recorded and transformed. Modest in scale and subject, my works become fleeting moments of distorted reality.

Examining ideas of existence and being, I look for the essence of a person through the essence of an object. The camera becomes a link between an intense description of the world of things and my own response to it. My works are fragments that act like poetic signs; I would like to encourage people to slow down and to see the poetry of everyday life. Through the process of cumulative observation some of my favourite motifs are endlessly copied while others, once pushed to the edge, simply vanish. The diversity of my work unites the idea of looking behind what is seen, which is my main concern.
︎︎︎